Introduction
Cast Film products are primarily used in packaging industry for food, stuff and consumer goods. However, as a result of their special qualities, they are also used in technical products, medical products and as a mean of ensuring prefect surface protection. The films produced in this way make an impressive impact due to their low gauge tolerances, high transparency, suitability for metallizing and printing.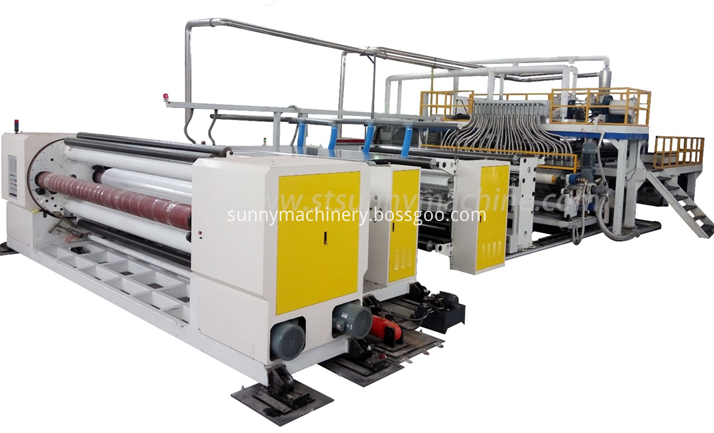 •Cast film products are mainly used in the packaging industry, but technical, medical and stationery films are also important sectors. Indeed, the worldwide market for flexible plastic packaging is predicted to grow steadily within the next years.
•Owing to their good optical and mechanical properties, cast films play a significant role in the flexible packaging market. In most cases printing, metallizing or laminating with other materials represent the subsequent processes in the value chain.
•Both, film producers and converters, expect high film quality and cost-efficient production. SUNNY can supply our customers with highly functional machines for their specific market requirements.

Machine constitute
1. Auto. Feeder system
It is important to ensure the efficient use in every film layer in consideration of that raw material be the main part of the cost for the production of cast films. Multi-components feeding system will be supply according to customer formula and requirements.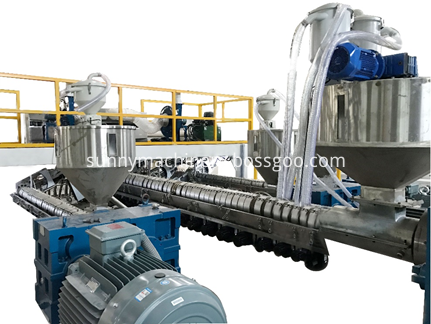 Below two Feeding system for selection: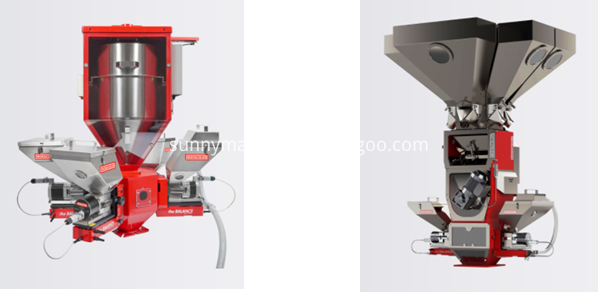 2. Extruder System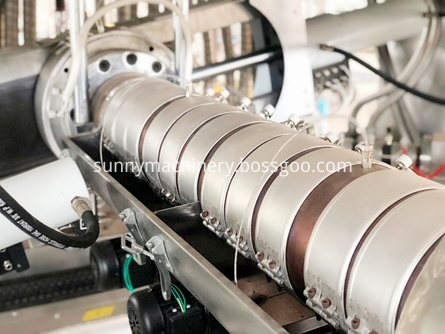 ●SUNNY Extruder System Frame have a solid steel frame construction
●SUNNY extruders for cast film are designed according to the processing requirements for all the relevant polymers used in this market. Standard versions with screw diameters from 45 to 250mm is available. Extruders with an L/D ratio of 28 or 35 and bimetallic barrels are powered by energy-efficient, low-maintenance, air-cooled AC drives.
●All extruder barrels are heated using advanced heating system, thus retaining the heat in the barrel.
3. Connector, Distributor and T-Die Molding system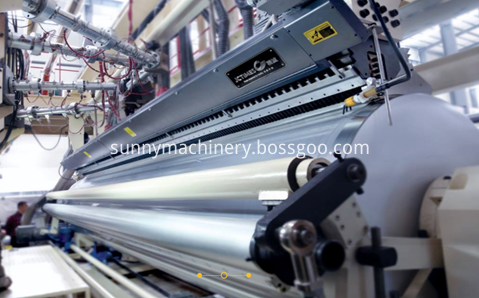 ●Different diameter Extruder connector and stainless steel electric heater
●Multi-layer distributor (Depends on customer demand)
●Multi-layer Co-extrusion Automatic DIE (Depends on customer demand)
MELT FILTRATION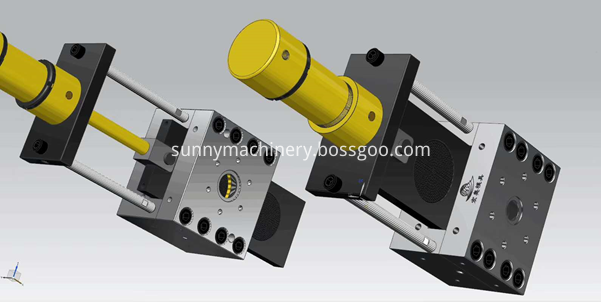 Effective melt filtration for the removal of impuritieds, Unmelted or cross-linked particles is most important.
Usually SUNNY Install hydraulic filters or rotation filters in its cast film lines.
Feed Block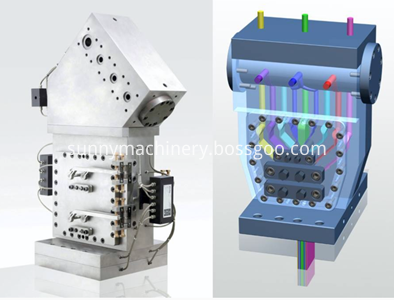 We can supply our customers the most suitable feed block with the strongest practicality. In particular, the inlet and outlet dimension of feed block can be customized to connect directly with extruder and die, without requesting for transition part thus save the cost.
Technical Advantages
●Suitable for processing multilayer and multicolor coextrusion of polymers with similar flow rate and processing temperature.
● Conventional feed block structures including: insert type,mandril type,vane type. Besides,dedicated feed block for gradient film and hollow sheet.
● Accurate flow channel design assures perfect processing precision.
Multi Manifold Automatic Die
•As a professional supplier of cast film lines, SUNNY relies exclusively on reliable partners for its feedblocks and flat dies.
•A 3-layer feedblock with three extruders is standard for the production of CPP film, but there is also market demand for structures with five layers and four respectively five extruders.
•For barrier films there are no limits in terms of the number of layers. For example, 3-layer structures with three extruders are used for the minimum requirement, while maximum reach eleven layers are employed for special high-barrier structures.
•Co-extrusion flat dies with a hanger shape are able to incorporate fixed or variable internal deckling systems, which allows efficient variations of the net film width. Depending on the manufacturer, dies are either chrome- or nickel-plated, but in both cases automatic die control via thermal heated bolts is standard.
•In order to achieve better performance in terms of the individual layer distribution, multi-manifold laminating dies are sometimes recommended for the structures using polymers with large differences in melt viscosity or processing temperature.
4. Vacuum Chamber, Air blade and Electronic Edge Pinning System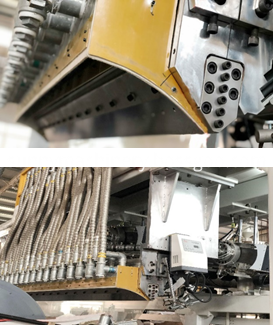 EDGE PINNING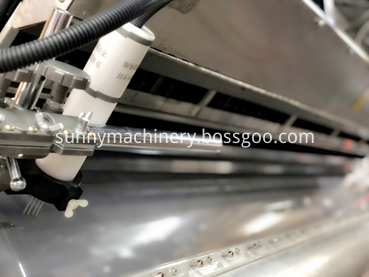 A combined electrostatic and pneumatic pinning system fixes the film to the chill roll surface and reduces the neck-in. Adjustable static power and air pressure, as well as easy positioning allow precise pinning and therefore solid contact between the film edges and the chill roll.
BI-VACUUM BOX
The box, which is mounted directly on the die body, consists of two chambers. The pre-chamber extracts the air stream generated by the rotating chill roll, while the main chamber maintains low air pressure between the extruded film and the chill roll and prevents air entrapment. In addition, the length of the melt curtain can be adjusted before it touches the chill roll. Both chambers are equipped with separate, speed-controlled suction fans.
5. Casting Cooling System
CASTING STATION
The casting station has a significant influence on final product quality. Parameters such as the position relative to the flat die, chill roll temperatures and vacuum box or air knife settings have a direct effect on optical and mechanical properties of the film such as haze, transparency, tensile strength or shrinkage.
The first chill roll has an electro-chemically matted and roughened surface that reduces air entrapment and allows an easy release of the film upon exit. The second and the third (optional) chill rolls have polished and chromium-plated surfaces.
6. Online Thickness Gauge Scanner System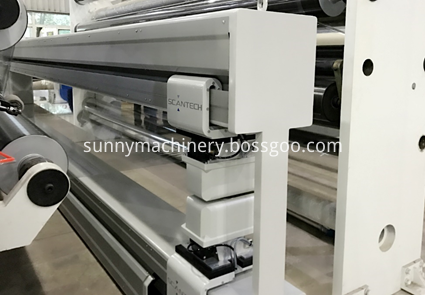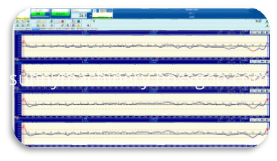 In answer to the differing regulations in customer countries and specific product needs, SUNNY supplies automatic gauging systems either with infrared, X-ray sensors.
7. Corona Treatment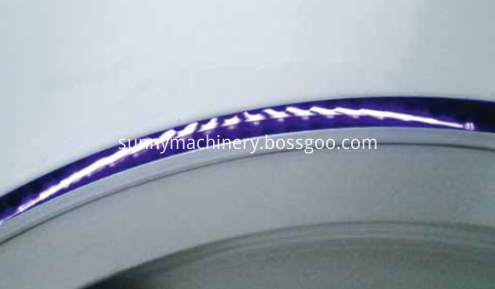 •A corona treatment unit must be installed in order to prepare the films for subsequent offline printing or metallizing processes.
•Depending on customer requirements, one-side reversible or double-side treatment stations are employed. The corona unit is equipped with electrically driven, water-cooled treatment rolls and with a nip roll to prevent backside treatment of the film. For a gentle but effective treatment to the required surface tension, it is important to select the correct number, shape and material of the electrodes in combination with a well dimensioned generator.
•During corona treatment, the film is heated, whereby the amount of heating energy required is contingent upon the speed, raw material and treatment level. Depending upon the design of the treatment station, a driven post cooling roll with a nip roll for additional film cooling can be installed either directly at the corona station, or at the winder inlet.
8. Edge Trim Cutting
TRIM HANDLING SYSTEM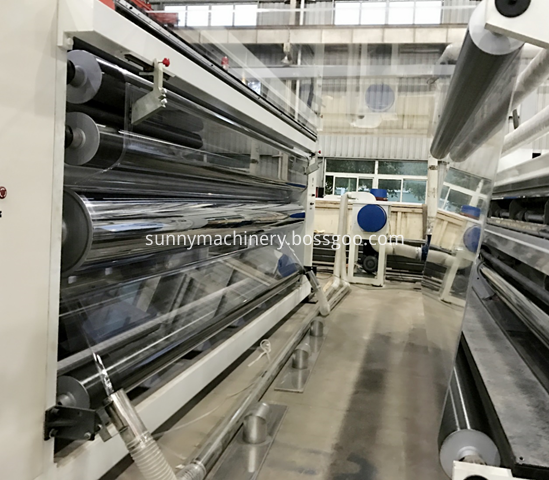 ●The edges of the film need to be trimmed in front of the corona treater, in order to prevent backside treatment. A final trim is cut directly at the winder and depending upon the winding system, bleed trims are also removed.
●The trims are sucked through the grinder to suction then transported to a spiral unloader. This feeds the powder together with virgin material directly to the extruder for the core layer.
●Powder feeder is a very energy-efficient and material compatible method, as no additional melting is involved, which results in less thermal stress of the material
9. WINDING SYSTEM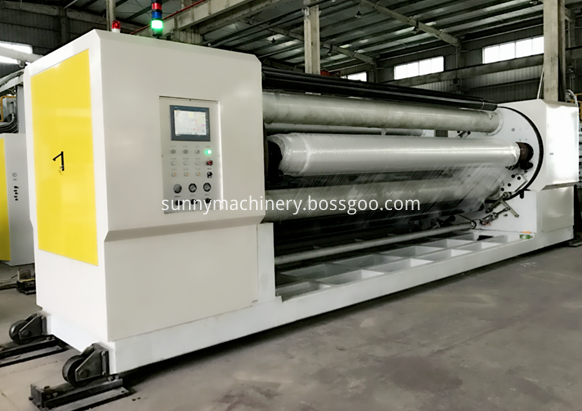 ●All these winders have a solid, vibration-dampening steel frame construction, which is able to resist the dynamic forces generated at high production speeds.
●Each winder equipped with a large, 12-inch touch screen for winding parameters adjustment and maintenance work
●The winder is the basic turret winder for the production of thin cast film mother rolls on 6-12inch shafts with a maximum winding diameter of 1,000mm.
●An ultra lightweight dancer roll controls film tension, while the shaft is center driven and the film is wound onto the roll in either a gap or contact mode.
●Film cross-cutting is performed by a twisting knife and in standard configuration, the new winding core is prepared with double-sided adhesive tape.
●As an option, the film can be fixed onto the new winding core by means of electrostatic charging, thus making core preparation unnecessary.
●During indexing, the incoming film is attached to the surface of the finishing roll by an auxiliary contact roll. The finished roll is removed by crane.
10. MDO Unit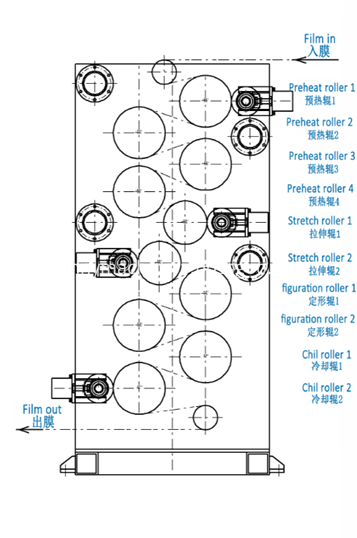 ●For special film applications, SUNNY integrates an inline MDO into cast film lines.
●The modular design of the MDO allows the addition of preheating or annealing rolls. Nip rolls can aslo be installed on every roll in order to fix the film and to eliminate air entrapment. As an option, the MDO is equipped with an adjustable stretching gap.
●The monoaxial stretching process allows to adjust a variety of film properties such as elongation, tensile strength, shrinkage, stiffness, barrier and optical characteristics. Furthermore, down gauging by stretching represents a growing trend in the film industry.
TYPICAL MDO FILM APPLICATIONS INCLUDE:
1. PE Metalize film PE
2. CPP Metalize film CPP
3. PE breathable film PE
4. Barrier film
MDO Units consist of a stable, modular machine frame, including a preheating section, a stretching section and an annealing and cooling section. All the rolls are separately driven and temperature controlled. Well dimensioned film preheating and annealing sections are important with regard to mechanical properties and high production speeds.